Skip to content
Job Postings
Anderson County Farm Bureau
Anderson County Farm Bureau is looking for a full time Customer Service Representative. Email david.taylor@kyfb.com for an application.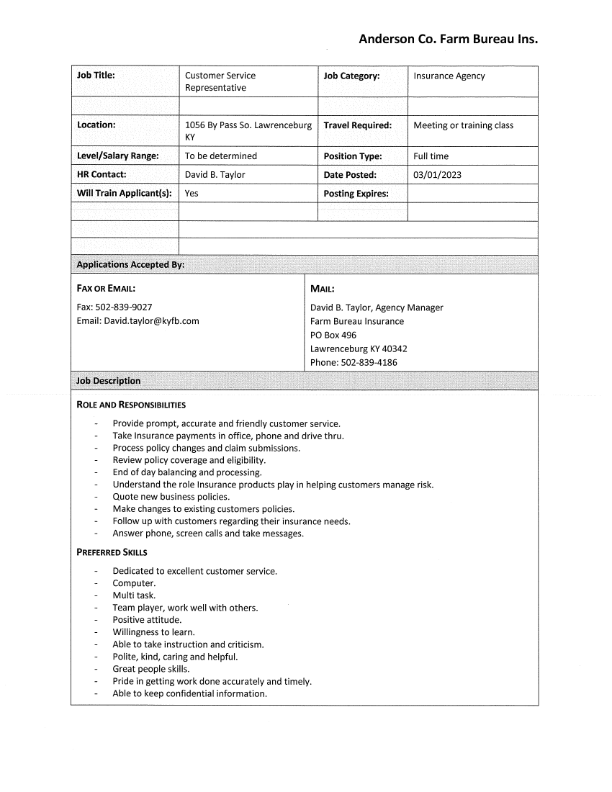 Bates Security
As one of the nations top commercial and residential security companies, we are growing fast and looking for motivated, trainable employees to join the Bates Security Team! Particularly, we are looking to add a Service Dispatcher to our team! Come join our growing team of hard-working people who really love what they do…. taking care of our customers.
Did we mention Bates Security ranked #34 on the top 100 security dealers nationwide!?!
Apply today at: https://hubs.ly/Q01Hn_sL0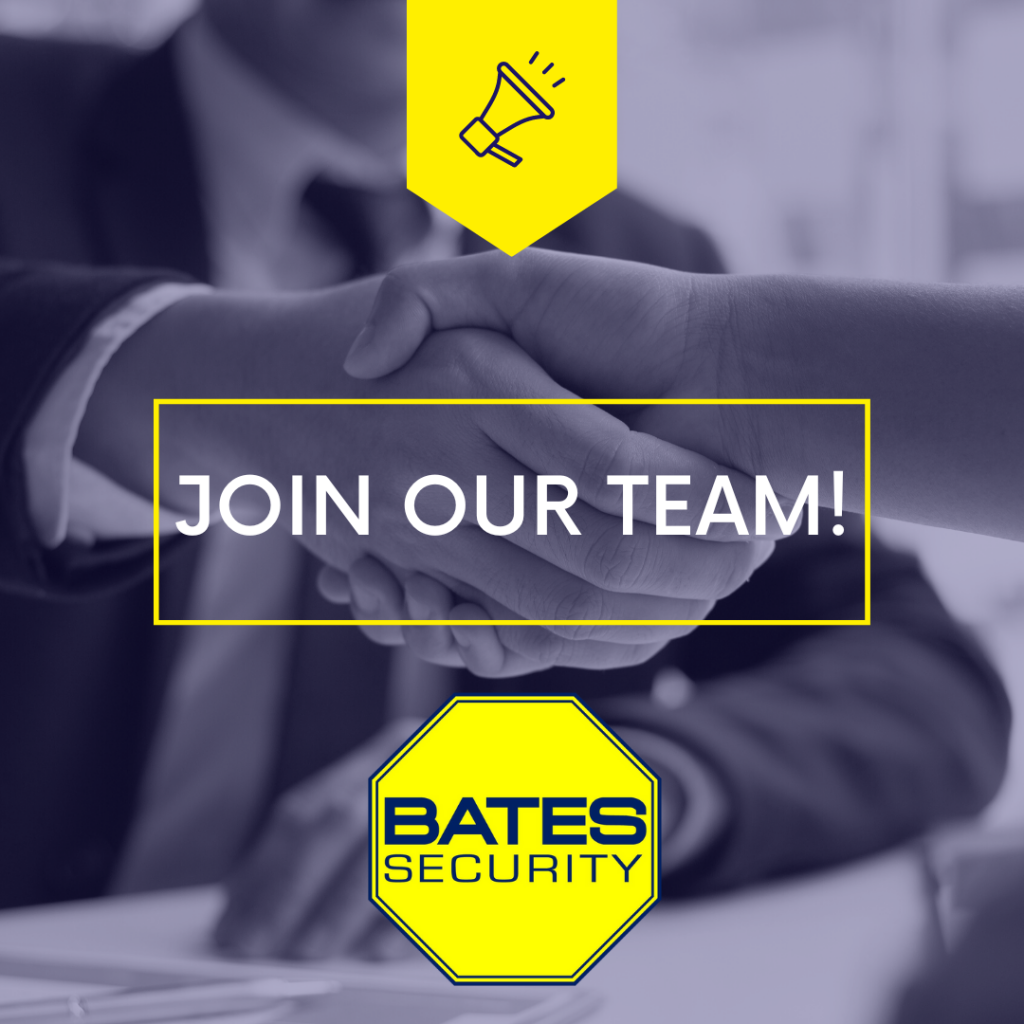 BCTC Lawrenceburg Campus
BCTC employees qualify for the same benefits (health insurance, retirement, dental, etc.) as state workers. More information/job posting: https://careers.kctcs.edu/jobs/adjunct-faculty-diesel-technology-lexington-kentucky-united-states
Interested? Email Aaron Harlow (aaron.harlow@kctcs.edu or 859-246-6774)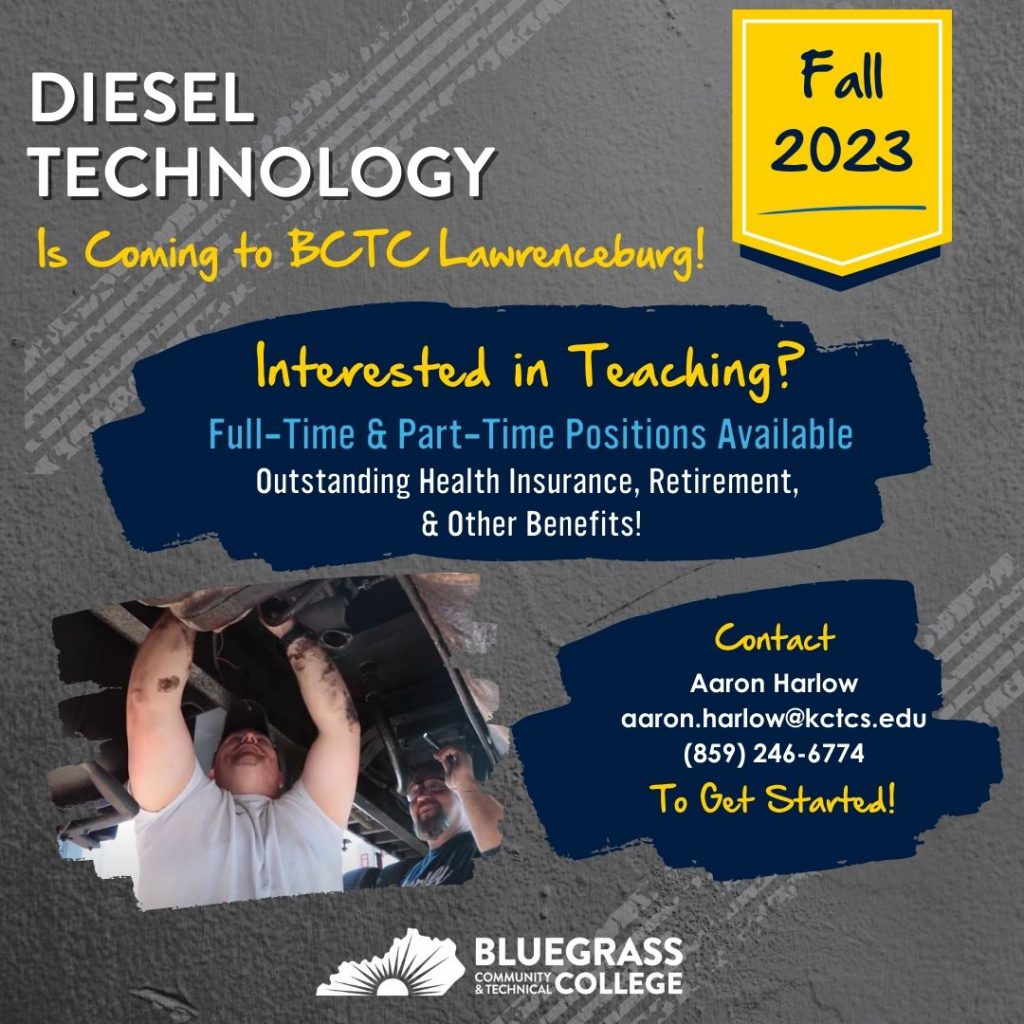 Bill McCoy Insurance
Please email hmccoy@bmia.us for inquiries or stop by their office at 1134 US Highway 127, Frankfort, KY, 40601 for an application.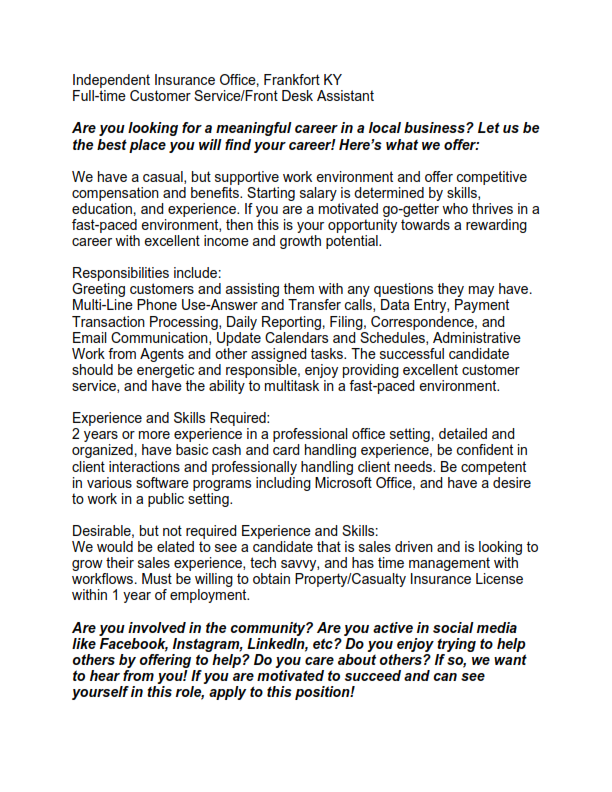 Bluegrass Community Action Partnership
Please email your resume to Jackie.johnson@bgcap.org by Friday, April 14, 2023, or visit www.bluegrasscommunityaction.org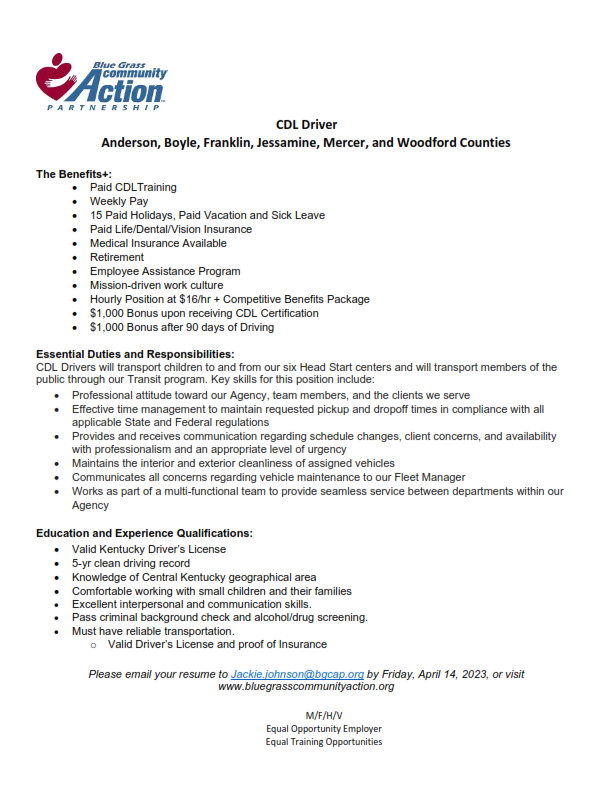 Bluegrass Railroad Museum
We are looking for a part-time Office Manager. Please call John at 859-873-2476 for all inquiries.
All train rides are 90 minutes long.
2023 Train Schedule:
Springtime trains Saturday April 1 one train at 2pm
Easter Bunny train Saturday April 8 one train at 2pm
Springtime trains Saturday April 15, 22, 29, and May 6, one train at 2pm
Mother's Day train Saturday May 13 two trains at 11 am and 2 pm
Civil War Train event Saturday May 20, two trains at 11 am and 2:30 pm
Regular trains Saturdays May 27 and June 3, two trains at 11 am and 2 pm
World War II event Saturday June 10, two trains at 11 and 2:30 pm
Father's Day train Saturday June 17 two trains at 11 am and 2 pm
Regular trains Saturdays June 24 through September 23 two trains at 11 am and 2 pm
Civil War Train event Saturday September 16, two trains at 11 am and 2:30 pm
Pumpkin Patch trains September 30, October 7, 14, 21, and 28 two trains at 11 am and 2:30 pm
Santa Claus trains Saturday November 25th at 11 am and 2 pm, Saturday December 2nd at 11 am and 2 pm, Sunday December 3rd at 2 pm, Saturday December 9th at 11 am and 2 pm, Sunday December 10th at 2 pm
Cash A Check
Email resume to cheryl@cashacheckky.com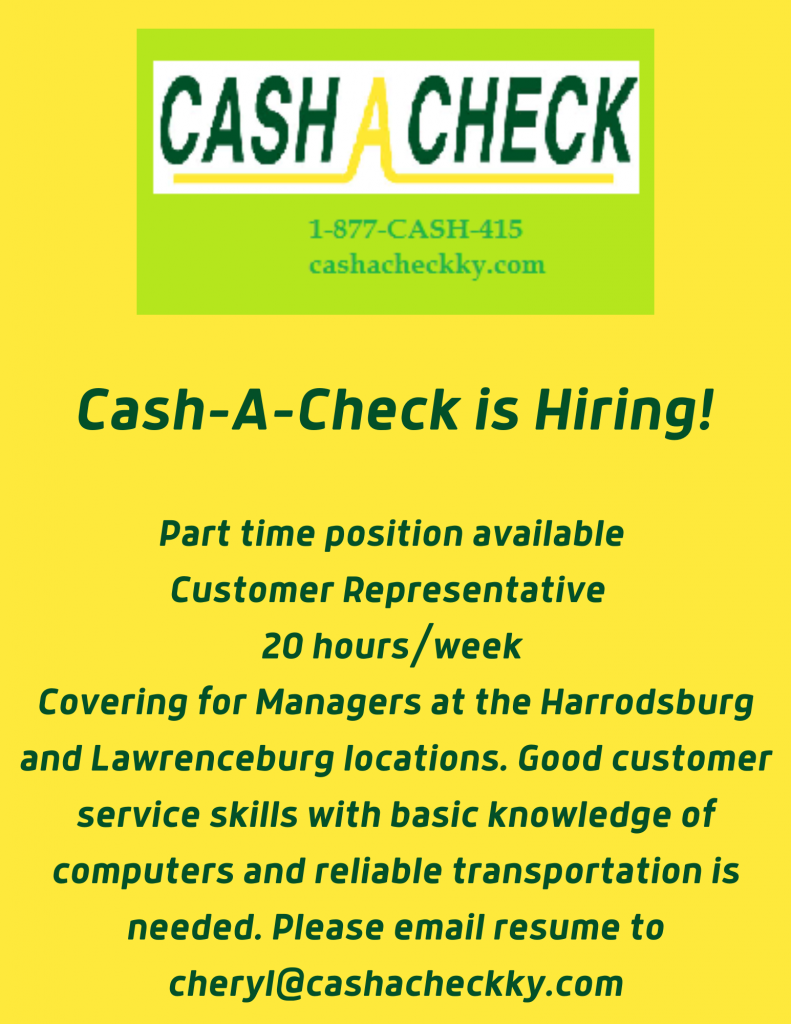 Christian Academy of Lawrenceburg
Email ascales@calramsky.com or call 502-839-9992
Our mission is to instill and model Christ-like behavior, strive for academic excellence and prepare students for life and service. We are seeking individuals to join our team for the 2023-2024 school year.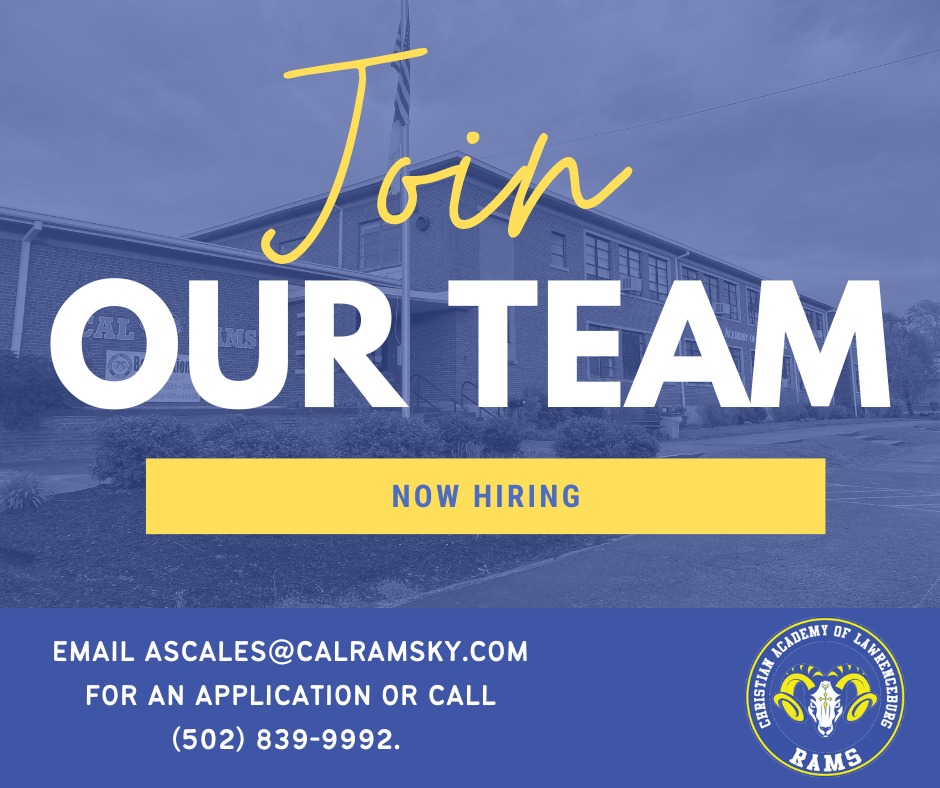 Lawrenceburg Bourbon Company
Call/text Greg at 859-300-9590 or send your resume to hq@lawrenceburgbourbon.com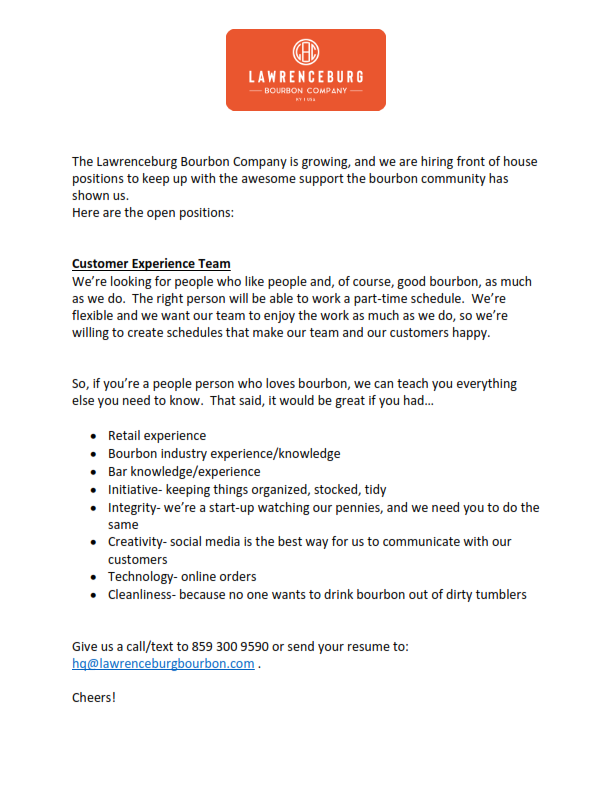 New Vista
New Vista is a private, not-for-profit community mental health center home-based in Lexington, Kentucky. We serve 17 central Kentucky counties and have specialty programs throughout the state and typically serve over 25,000 adults and children through its primary service corporation. We are excited to announce that we have recently been awarded a Certified Community Behavioral Health Center (CCBHC) grant and are looking for Outpatient Clinicians to join our Team. The CCBHC will give New Vista the ability to incorporate primary care into our treatment model along with many other services, enhanced crisis services and new outreach teams. If you are an innovative, passionate professional seeking a position to serve in a mission driven, non-profit organization, we encourage you to apply. Apply to https://www.newvista.org/therapist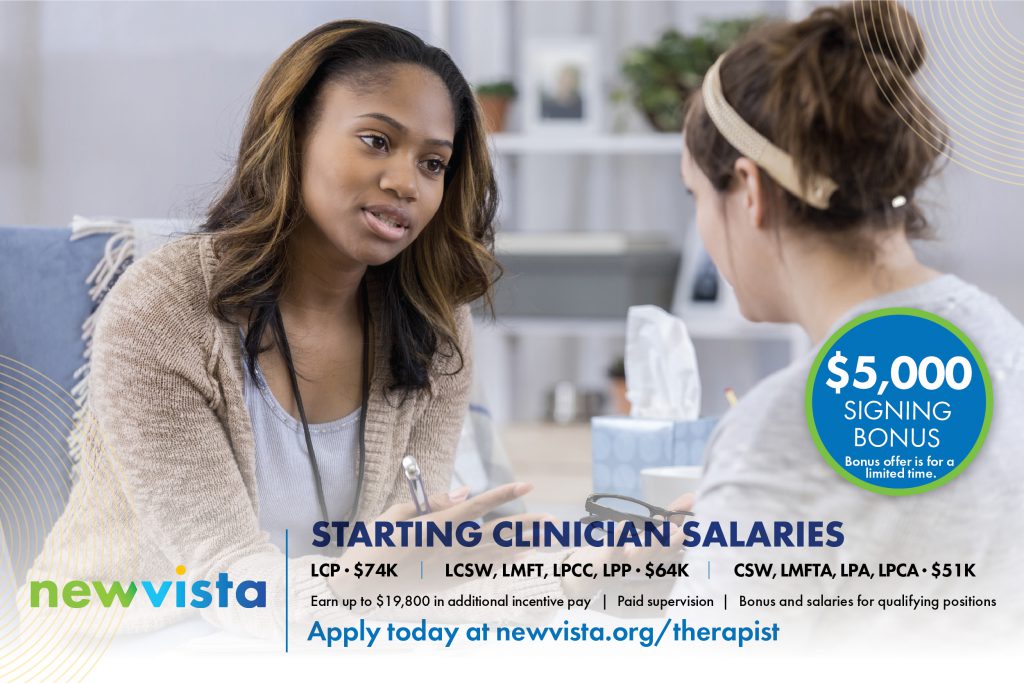 Prysmian Group
Text DATA to 866-745-6271 to apply!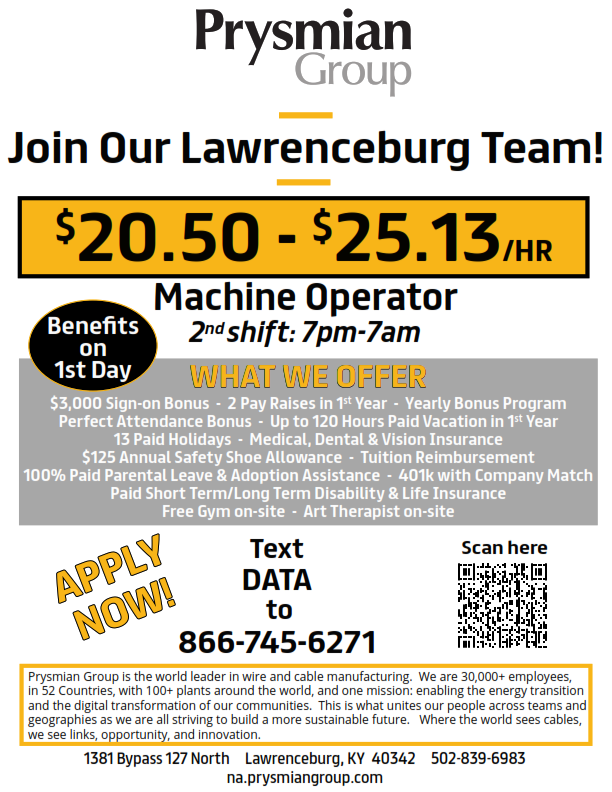 Servpro of Lexington
Email resume to larryc.servpro@gmail.com, walk-in, or call 859-225-3193